Workshops and Drum Circles
Talks, Workshops and Seminars
Your Guided Imagery session and keynote address stand out as highlights of the conference for me.Eric L. Ross, Canadian Association of Music Therapy Conference
Louise gives workshops, talks and seminars regularly at meetings and conferences. She will create or tailor presentations to meet your unique needs.
Recent topics have included:
Using Music for Relaxation and Stress Reduction
Introduction to using Guided Imagery & Music
Consciously Creating Wellness
Focus on Wellness: Surviving Cancer with Energy and Peace
Music, Meditation and Mandalas for Well Being
Introduction to the Bonny Method of Guided Imagery & Music
Drum Circles/Rhythmic Experiences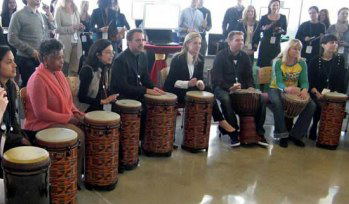 Louise has been facilitating drum circles with corporations and community groups since 1997. Energetically, rhythmically and socially, there is nothing like a drum circle to bring people in synch with each other without using words. It's fun and no musical experience is needed.
Rhythms Within drum circles offer a way to flex and tone your creative muscles in a fun, failure-free atmosphere. Drumming and rhythmic games provide the opportunity to create original, powerful in-the-moment music while exploring drums and percussion instruments provided by us.
Use Drum Circles for:
Team building
Clarifying group dynamics
Stimulating creativity
Reducing stress/increasing energy
Demonstrating concepts non-verbally such as flow or leadership
Clients have included:
The Disney Company
Google
Grainger
AAA Motor Club
Cummins
Starcom MediaVest Group
Brightstar
Keebler
Participants Say:
"I was amazed how people who were complete strangers and nervous about expressing themselves musically so quickly fell into synch and developed comfort and rapport with each other."
-Alan Amberg, Amberg Communications
It is one thing to "think" about strategy, it's another thing to "feel" the rhythm of a new strategy.  Louise and her group have been instrumental in creating organizational cadence and team alignment with my clients.  This is a one-of-a-kind experience that will take group facilitation to a new level.
-Brenda Russell Williams, President
Russell Williams Group, Inc.